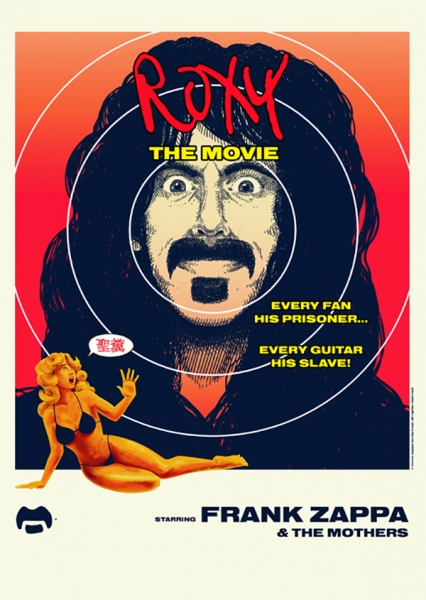 Después de la muerte del gran
Frank Zappa
en 1993, fueron su viuda Gail (que falleció en octubre del año pasado) y sus hijos, mediante el llamado Zappa Family Trust, los que se encargaron de administrar el legado y las finanzas del prolífico compositor y guitarrista norteamericano, lo que incluía no solo las reediciones de los álbumes que lanzara en vida, sino principalmente el lanzamiento periódico de parte del cuantioso material que Zappa dejara inédito en las bóvedas de su hogar californiano. Dentro de estos inéditos se cuentan álbumes en vivo (que abarcan varias épocas y varias formaciones de las muchas bandas que tuvo), compilaciones, out-takes y algo de sus trabajos en su faceta orquestal e instrumental. Quizá el apartado audiovisual era algo en lo que la familia Zappa no había profundizado mucho en los últimos años, pero con el lanzamiento de
Roxy: The Movie
(2015) de algún modo se salda una deuda con los fans del bigotón. Este legendario material en directo grabado en 1973 estuvo durmiendo el sueño de los justos por todo ese tiempo, pero es gracias a la tecnología actual disponible que recién hace unos pocos años se pudo iniciar la labor de restauración de las cintas, lo cual sumado a un buen trabajo de edición (que hace uso acertado de las cámaras que registraron el evento) hará las delicias de los fans, ya que aquí se ve representado de gran forma uno de los mejores momentos de su carrera, en el que gozaba de popularidad por una serie de notables álbumes editados a inicios de los 70 (el periodo que va de
Chunga's Revenge
a
Over-Nite Sensation
) y que se prolongaría hasta finales de esa década.
Recuerdo que cuando hace buenos años me interesé en la música de Zappa por algunas cosas que le había oído (creo que
We're Only in It For The Money
fue el primer disco suyo que me compré), pregunté en un foro de internet con qué otras cosas podía seguir. "Puta, acabas de cavar tu tumba" me respondió un avisado usuario y no sin razón; con eso se refería no solo a la enorme discografía del bigotón (ya ubicable en ese momento por internet), sino a lo ecléctico de su obra, que abarca jazz-rock, blues-rock, doo-wop, música experimental y muchos otros géneros más. Escuchando y leyendo poco a poco más cosas de él, me llamó la atención su sardónica y muy lúcida visión sobre el mundo y obviamente su trabajo musical, sobre todo aquel lanzado en el periodo de 1966-1975, que es para muchos en el que editó su obra más valiosa. Remontándonos a la época, para mediados de 1973 Zappa decidió apartarse del formato de big-band jazz con el que experimentó en LP's como
Waka/Jawaka
y
The Grand Wazoo
y había vuelto a escribir material más rockero y con un formato más simple y radial (aunque siempre muy a su estilo, lo que se puede oír en
Over-Nite Sensation
), además de armar una nueva formación de los
Mothers
, que lo acompañaría por un par de años. Con esa nueva alineación materna (
George Duke
en teclados, sintetizadores y coros;
Napoleon Murphy Brock
en voces, saxo y flauta;
Tom Fowler
en el bajo,
Bruce Fowler
en el trombón;
Ruth Underwood
en la percusión y la dupla de bateristas
Ralph Humphrey
y
Chester Thompson
) se presenta en el legendario club Roxy de Los Angeles del 8 al 10 de diciembre de 1973, shows que serían grabados y filmados y de los cuales se terminaría editando
Roxy & Elsewhere
(1974), quizá el mejor registro en vivo zappiano de esa época. Siempre que escuchaba ese disco, si bien disfrutaba mucho de las logradas performances de la banda, echaba un poco en falta una contraparte visual, ya que en esos conciertos Zappa y su troupé interactuaron mucho con el público y manejaban un peculiar despliegue escénico, lo cual llevaba a quien lo escuchara a hacer un ejercicio forzoso de imaginación y visualizar mentalmente lo que en el disco se podía oír.
Roxy: The Movie
aparece más de 4 décadas después de dichos conciertos y con la idea de poder llenar en parte ese vacío, ya que su tracklist está pensado como complementario a
Roxy & Elsewhere
y no todos los temas incluidos en dicho LP se encuentran aquí y viceversa. Lo que me llama más la atención del registro (y es algo que ya se podía deducir de los discos en estudio de ese periodo) es lo jodidamente afiatados que sonaban los
Mothers
en concierto: al margen de que hay espacio aquí para pasajes de blues-rock como "Cosmik Debris" y algo de funky-rock en "I'm The Slime" y "Penguin in Bondage" (este último con Zappa ejecutando un hilarante
footwork
), es increible ver al conjunto tocar las complejas y estrambóticas composiciones del bigotón -las que privilegiaban su lado jazzístico- con gran soltura y pericia, en las que incluso los solos (todos los instrumentos tienen su momento para brillar, todos) están totalmente ensayados e integrados dentro de los temas, como dejando en evidencia el carácter obsesivo y perfeccionista de Zappa. Es así que momentos como la ralentizada versión de "Inca Roads" (que grabaría en estudio recién un par de años después), "Dog/Meat" (medley de sus célebres
themes
"The Dog Breath Variations" y "Uncle Meat"), "RDNZL", "Big Swifty", "Echidna's Arf (Of You)" y "Don't You Ever Wash That Thing?" me resultan acojonantes por el enorme grado de cohesión que la banda muestra, siempre bajo las órdenes de Zappa, que los dirige a su antojo con sus clásicos movimientos de las manos, no solo en lo musical sino en cuanto a ofrecer un espectáculo que incluye pasos en escena y cuotas de humor (p.ej: Zappa y Brock siendo acicalados en escena como el Luis Miguel de JB). Dentro de esta formación -en la que todos la rompen- se destaca la participación de
Napoleon Murphy Brock
, que cumple a cabalidad su papel de frontman excéntrico y con algunos histriónicos solos de saxo y flauta, pero sobre todo de
George Duke
, que desde sus teclados se erige como el sideman ideal, aportando voces, algunos inspirados solos jazzeros y hasta un gracioso scat en "Be-Bop Tango (Of the Old Jazzmen's Church)", tema en el que organizan un bizarro concurso de baile y suben varios asistentes a escena para tal fin (incluyendo a la célebre groupie
Pamela Des Barres
), el cual culmina en un ruidoso desmadre que hay que ver para creer.
Para ir culminando y como ya señalé lineas arriba, hay temas de
Roxy & Elsewhere
que al no haber sido grabados en los shows del Roxy no forman parte de este lanzamiento (editado por
Eagle Vision
en DVD y Blu-Ray) y que me hubiese gustado ver, como "Village of the Sun" o "More Trouble Every Day", pero es solo un reparo bastante menor: el material (que trae además 3 temas bonus y las tapas de buena parte de la discografía de Zappa) es lo suficientemente entretenido como para atraer no solo a los fans sino a quienes quieran empezar a conocer algo de su obra ya que, en lo que a nivel visual y musical se refiere, me parece un estupendo punto de partida. Recomendado.
LesterStone

Trailer: